Poison Centre Notification (PCN)
Poison Centre Notification (PCN) for Mixtures – Are You Ready?
The Poison Centres across the EU are harmonizing their information according to the Annex VIII of the CLP Regulation. The legislation came into force on 1 January 2021 and brought with it several significant changes concerning companies who supply hazardous chemicals.
The Poison Centre Notification will require information of mixtures, such as product category, complete chemical composition, toxicological data and UFI codes. The notification should also be submitted to all the countries where the mixture is put on market, so submitting information to Poison Centres can be a complex process.
That is where Chementors comes in! With the help of our experts as well as our software tools, you can fulfill your obligations and avoid financial and legal costs due to missing or incomplete notifications.
Do you have to make Poison Centre Notifications?
Your obligation to report to the Poisons Centres depends on your table of products and your role in the supply chain.
Understanding new legal requirements can be complex and may raise many important questions:
Does my company have to submit the Poison Centre Notifications?
When do I have to submit the information?
What kind of information should I provide?
How do I prepare and submit the information?
How much does it cost?
What do I do if the mixture I submit changes?
How do I create a UFI number?
How do I create an ECHA UUID?
How much information do I need about my product formulation?
Can I submit multiple products at the same time?
Chementors helps with these issues and more. We provide a customized PCN service for companies that are required to report their mixtures to the Poison centres. With our service you will save time, money and resources.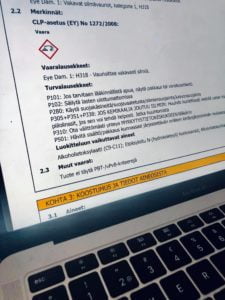 Submitting Poison Centre Notifications with Chemeter software
Our safety data sheet creation software Chemeter offers a comprehensive solution for compiling and submitting Poison Centre Notifications (PCN).
Safety Data Sheets and PCN
The Safety Data Sheets (SDS) for your mixtures may contain a lot of information needed for the PCN, but it is very likely that the information on your SDS's do not meet all the notification requirements. You might need to collect the required information separately, and you may for example need to contact your suppliers for additional information.
In addition to the information often found in Safety Data Sheets, such as product name, CLP classifications, precautionary statements and hazard statements, the PCN notification also requires the following information, which is less frequently found in the SDS:
Color
pH
UFI number
Toxicological information translated into the required languages
Complete chemical composition, including non – hazardous substances above 1%
Type and size of packaging
EuPCS code
In addition to the PCN notification, Chementors can prepare or update your safety data sheets to comply with the PCN requirements and other up-to-date regulations, if necessary.